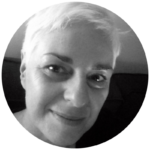 Having spent much of her working life in the hectic, demanding world of making media, Megan's path toward slowing down and hitting the pause button came after a work-related health issue, caused by sustained stress. Meditation and mindfulness practice have also been profoundly helpful on her journey with grief, after the sudden loss of her mother in 2012.

Since 2009 she has studied and practiced Mindfulness Based Stillness Meditation (MBSM), first learning it at The Gawler Foundation in Australia, and undertaking MBSM teacher training  in 2011 and 2016.
After relocating to Berlin in 2015 Megan co-presented two-day workshop 'Deep Storytelling: Creating A Culture Of Connection', teaching empathy in storytelling and producing a podcast. She then taught her seven-week course 'Meditation for Creativity' in September.
As well as courses and individual consultations, she also presents mindfulness and meditation workshops and sessions at organisations and companies. In November 2015 Megan was invited to present a meditation workshop at Paypal Berlin as part of the company's "Work/Life Balance" program. In April 2016 she presented 3-hour workshop Mindfulness and Meditation at Work at The School of Life Australia (Melbourne), as part of their Autumn curriculum.
Since 2016 she has co-taught ongoing mindfulness and movement workshop Express Yourself, with Grinberg practitioner Hanna Nordqvist, and co-lead Open Your Heart, a program of weekly guided mediation sessions and a day retreat with MBSR teacher, Signe Glahn. Further dates for both programs have been scheduled in 2017, as has her 'workplace' workshop at The School of Life, in Berlin, Melbourne and Sydney.
Mindful Self-Compassion is of particular interest to her as a teacher. In February 2016 Megan was a participant in the Mindful Compassion As A Health Care Intervention course at Breathworks UK. Having spent 2016 participating in prerequisite studies, in April 2017 she undertook MSC Teacher Training in Sydney, as developed by Dr. Kristin Neff and Dr. Christopher Germer and facilitated by the UCSD Centre for Mindfulness.
Regularly attending meditation retreats, Buddhist retreats and mindfulness study courses are part of her ongoing professional – and personal – development. As are taking online courses and summits with some of the world's leading meditation teachers, contemplatives and researchers.
Among her many valued teachers she counts Ven. Robina Courtin and Ven. Thubten Gyatso (Atisha Buddhist Centre, Australia); Australian meditation teachers and therapists Paul and Maia Bedson, and meditation pioneer Dr. Ian Gawler (The Gawler Foundation); Breathworks teachers Kate Fitzroy, Dharmakirti Zuazquita (Respira Vida Breathworks, Spain), Cate Clark and MJ Stephens (Breathworks Manchester), certified MSC instructors Kristy Arbon and Marcella Cox ("Online Mindful Self-Compassion") and from her online studies, US mindfulness pioneers Dr. Jack Kornfield PhD and Dr. Tara Brach PhD ("The Power Of Awareness") and Sharon Salzberg (The Boundless Heart").
Click here for news about Megan's latest courses and workshops!
Click here to read Megan's latest meditation e-newsletter!
---
Megan welcomes work inquiries! If you would if you would like to discuss working with Megan as a mindfulness meditation teacher, workshop instructor, consultant, public speaker – or as broadcaster and journalist with a particular interest in this area – she can be contacted at: hello@themeganspencer.com
I try to practice still meditation on a regular basis, but struggle avoiding being distracted, and end up giving up. I found Megan's moving meditation much easier to practice and it gave me the tools to help me be more mindful of my body in my everyday life. After our session (and my intimate moment with a 20ft White Gum Tree!) I walked away feeling more balanced, re-energized and redirected. Forever grateful! Thank you Megan.

Rebecca Norman, Moving Meditation, Bendigo Botanical Gardens.
It was a great experience Megan, thank you, and something I have been practicing everyday since... xx

Sarah McQueenie, Moving Meditation, Bendigo Botanical Gardens.
I enjoyed the time with the group and even spent some time 'slow walking' at lunchtime the next week. I just need to do it more often!

Anne Mangan, Moving Meditation, Bendigo Botanical Gardens.
Sunday's session was inspiring. Thank you so much for putting it on.

Nevena Barrett, Moving Meditation, Bendigo Botanical Gardens.
Very informative, friendly. I like the use of real life examples and experiences.

Student testimonial, The School of Life Australia, Mindfulness and Meditation at Work
Megan was great. I learned a lot and will follow up on a lot of stuff.

Student testimonial, The School of Life Australia, Mindfulness and Meditation at Work
Great!

Student testimonial, The School of Life Australia, Mindfulness and Meditation at Work
Resonating. Reaffirming. Educational. Mind Opening. Healing. Thank you.

Student testimonial, The School of Life Australia, Mindfulness and Meditation at Work
Thank you so much for your caring attention and time the other day. That was truly wonderful. You have given me an opportunity to put myself back in touch with what is most precious to me. Thank you so much! What a completely moving and pragmatically good experience.

CJ, Individual Consultation, Berlin
Diving into the world of meditation and creativity, it was a great and challenging journey : )

Susanne Kohl, Grinberg Method practitioner, artist, Meditation For Creativity, Berlin
Really inspiring.

Yannis Mataillet designer, consultant, architect, Meditation For Creativity, Berlin