For the last 12 months I've been pretty much bunkered down in "podcast land", writing, recording and producing what amounts to the biggest creative project of my life.
From A Whisper To A Bang! is a six-part, one-hour audio series about wartime remembrance, an Australian prisoner of war (POW) in World War 2 Germany and an emotional journey in 'historical empathy', commissioned by the Australian War Memorial.
Come with me as I walk in the shoes of my late grandfather, Corporal Harry Spencer, 2/7 Btn., across land and sea, two world wars, three generations, four POW camps and umpteen compelling conversations with historians, family members, battlefield pilgrims, cultural custodians, returned veterans and many more.
How do we make sense of war and what it leaves behind?
What role does remembrance play in our lives? 
And do we take the responsibility peace seriously enough?
On the heels of the 2018 Centenary of the Armistice, I ask these important questions and look at how we remember, why we remember and how the need for remembrance endures – and changes – over time.
Initially released monthly in the first half of 2019, all six episodes are NOW online and ready for you to BINGE to from start to end!
Taking two years to make, recorded in Europe and Australia and featuring the extraordinary music of Cretan-Australian duo Xylouris White, stream or download each episode now on the Australian War Memorial website, iTunes and from all good podcast platforms.
From A Whisper To A Bang! is atmospheric, dramatic, historic, moving and – unforgettable. I invite you to listen, reflect and share with your community.
May we remember well.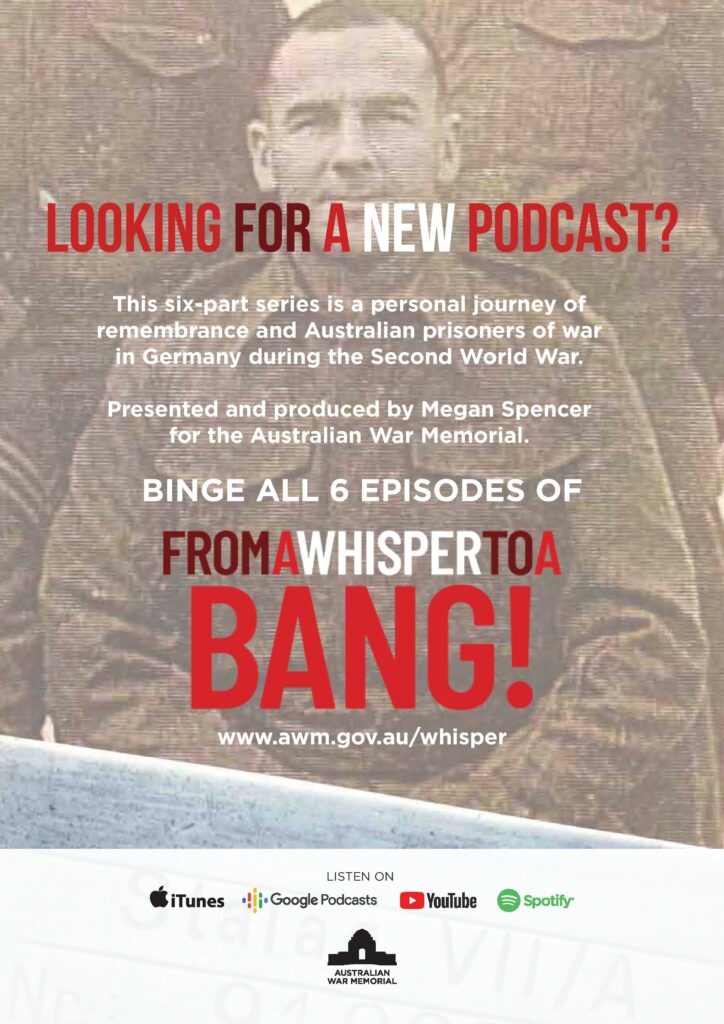 Flyer: courtesy the Australian War Memorial