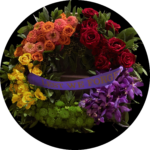 This podcast series is produced by award-winning podcast maker Megan Spencer and explores the stories of Australian LGBTiQ+ service people and their history in the Australian Defence Force.
These episodes (with a bonus interview coming soon!) accompany the Shrine of Remembrance's 2022 'identity and military service' exhibition, Defending with Pride: Stories of LGBTQ+ service.
Listen on the Shrine website at the links below:
This podcast is also available on Spotify and other streaming services.
Additional photo credits: Walkom Photography, Shrine of Remembrance